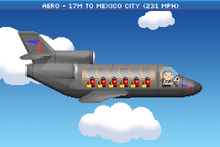 Aeroeagle Series
More info
Level Unlocked
16
Class
2
Capacity (P/C)
6
Capacity (M)
3 P, 3 C
Range (miles)
2,000
Speed (mph)
220
Weight (tons)
6.0
The Aeroeagle is a medium sized jet plane unlocked at level 16 that has 6 cargo/passenger slots. The aircraft is probably the most efficient jet in the game due to its high capacity, low speed (compared to a Pearjet), and transatlantic capabilities. With the carbon fiber fully upgraded it can make a profit of 10,825 coins on a single flight from Tokyo to Honolulu in just 2 hours. Buy an Aeroeagle instead of a Pearjet because of its higher capacity, better range, and cheaper price, turning into better profit. It is based on Boeing 727 or the Dassault Falcon 900, or the McDonnell Douglas DC-10 because of its 3 engines located on the tailplane.
Costs:
Parts: 13

per part
To Build: 13

to build = 52

total
To Buy: 78

To Upgrade: 13

per upgrade (total of 9 upgrades available)
Upgrades:
Type
Base
Level 1
Level 2
Level 3

Range
(miles)

2,000
2,100
2,200
2,300

Speed
(mph)

220
231
242
253

Weight
(tons)

6.0
5.7
5.4
5.1
With all fuel upgrades, it can make New York-London. With only 5% fuel upgrade, it can make Boston-Madrid. This is probably the best class 2 trans- atlantic route.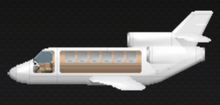 DC
Ad blocker interference detected!
Wikia is a free-to-use site that makes money from advertising. We have a modified experience for viewers using ad blockers

Wikia is not accessible if you've made further modifications. Remove the custom ad blocker rule(s) and the page will load as expected.