Aeroeagle Series
More info
Level Unlocked
16
Class
2
Capacity (P/C)
6
Capacity (M)
3 P, 3 C
Range (miles)
2,000
Speed (mph)
220
Weight (tons)
6.0
The Aeroeagle is a medium sized jet plane unlocked at level 16 that has 6 cargo/passenger slots. The Aeroeagle is one of the best planes in the game. It is unlocked at level 16 and has 6 slots for cargo and passengers. The aircraft is probably the most efficient jet in the game due to its high capacity, low speed (compared to a Pearjet), and transatlantic capabilities. With the carbon fiber fully upgraded it can make a profit of 10,825 coins on a single flight from Tokyo to Honolulu in just 2 hours. Buy an Aeroeagle instead of a Pearjet because of a higher capacity, better range, cheaper price, and a lower speed turning into better profit. It is possibly based off of a Dassault business jet, Boeing 727-100 (too small to be a -200), or a Tupolev TU-154.
Costs:
Parts: 13

per part
To Build: 13

to build = 52

total
To Buy: 78

To Upgrade: 13

per upgrade (total of 9 upgrades available)
Upgrades:
Type
Base
Level 1
Level 2
Level 3

Range
(miles)

2,000
2,100
2,200
2,300

Speed
(mph)

220
231
242
253

Weight
(tons)

6.0
5.7
5.4
5.1
With all fuel upgrades, it can make New York-London. With only 5% fuel upgrade, it can make Boston-Madrid. This is probably the best class 2 trans- atlantic route.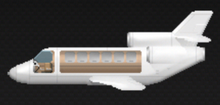 Ad blocker interference detected!
Wikia is a free-to-use site that makes money from advertising. We have a modified experience for viewers using ad blockers

Wikia is not accessible if you've made further modifications. Remove the custom ad blocker rule(s) and the page will load as expected.