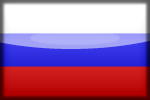 Russia has 13 cities over two regions, 4 in Europe and 9 in Asia. Fact: Russia is the largest country in the world and uses cryllic script.
Europe
In Europe, Russia has 4 cities: Moscow, Murmansk, St. Petersburg and Volgograd. Two of the cities are Class 1 (

) airports, one is a Class 2 (

) airport, and the fourth is a Class 3 (

) airport.
Asia
In Asia, Russia has 9 cities: all of which are Class 1 (

) airports.
Pages in category "Russia"
The following 13 pages are in this category, out of 13 total.