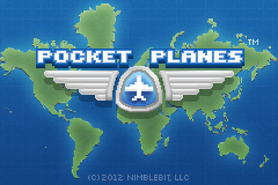 Every so often NimbleBit releases an update to Pocket Planes, usually fixing bugs. Here, you can find specific updates to Pocket Planes, along with their release date and update description. The latest version of Pocket Planes is version 1.2.4, released on February 15th, 2017.
Version Number
Date Released
Update Description
1.2.4
February 15, 2017
1.2.3
January 27, 2017
1.2.2
January 23, 2017

New friends functionality
64 bit compatibility

1.2.1
May 16, 2015

Fixed notifications not showing on iOS 8
Fixed video offers

1.2.0
February 18, 2015

Three new planes!
Fixed video ad bugs

1.1.11
January 19, 2015

Fixed video ad orientation issues

1.1.10
December 11, 2014

Fixed crashing on older versions of iOS

1.1.9
November 14, 2014

Fixes for graphical glitches on new devices

1.1.8
September 29, 2013

Fix for iCloud issues
Fix for gifting issues

1.1.7
September 17, 2013
1.1.6
September 16, 2013
1.1.5
May 30, 2013

Fixed crash when returning to app

1.1.4
May 22, 2013

Fixed button positioning on Bux Menu

1.1.3
May 9, 2013

Free bux offer of GET BUX screen
Fixed help view orientation bug

1.1.2
January 21, 2013
1.1.1
November 27, 2012

Fixes to some cargo related awards
Fixed bug in airplane stats

1.1.0
November 9, 2012
1.0.5.0.1
October 11, 2012

Fixed load/unload button hit detection
Fixed layover delete button hit detection
Fixed graphical glitch on sleigh
Fixed crash when cancelling a gift
Fixed disappearing clouds
Fixed null achievement popup

1.0.5
October 10, 2012

iPhone 5 and iOS 6 support
New planes
Support for syncing with Mac version
Bug fixes

1.0.4
July 18, 2012

New game guide! Tapping the info button in the top right of a screen will load the game guide to the appropriate section.
Tapping and holding a load or unload button on the Jobs Screen now auto-loads/unloads jobs with the same destination.
Pulling the list down on the Jobs Screen now gives you an option to refresh the current jobs.
Local (non Flight Crew) events now give a bux prize when completed.
City cap increased by two.
iCloud sync can now be disabled in the device settings.
Plane cargo now automatically removed when hangared.
Minimum contribution to earn prize now shown on Flight Crew prize screen.
Costume unlocks now saved per*plane.
Improved special character stripping on Flight Crew names.
Improved game startup time.
Fixed bug where planes can be stuck without a trip and can't be accessed.
Fixed crash when viewing planes list with no active planes.
Fixed bug where plane upgrades and stats were lost when hangared.
Fixed multiple achievement bugs.
Fixed bug where some screens would stay loaded in background and steal input.
Fixed crash when editing plane name while landing.
Fixed spelling of Oceania.
Fixed bug allowing plane upgrades in-flight.
Fixed bug where Bux or coins could go negative.

1.0.3
June 21, 2012

Vastly improved iCloud support for playing across multiple devices
Added setting to disable syncing in game settings
Added button to reset Game Center awards in game settings
Fixed invisible menu hijacking touches
Zoom level on map now saved
Added category header to Flight Crew leaderboards
Many other small bug fixes

1.0.2
June 15, 2012

Added Tweet button to Flight Crew Menu
Fixed Crash when returning to app while Game Center Window was up
Removed vibration from in-game drop-down alerts
Fixed crash on resume
Some spelling corrections
Prevented clearing of achievements
Fixed crash when planes land while manifest is up
Fixed cursor positioning on Flight Crew menu

1.0.1
June 06, 2012

Pocket Planes released on App Store
Ad blocker interference detected!
Wikia is a free-to-use site that makes money from advertising. We have a modified experience for viewers using ad blockers

Wikia is not accessible if you've made further modifications. Remove the custom ad blocker rule(s) and the page will load as expected.