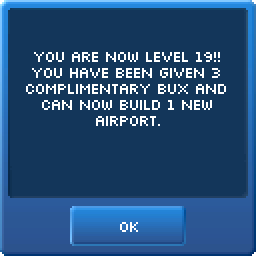 There is an unlimited number of levels in Pocket Planes. However, each one takes an increasing amount of experience to earn according to the equation. After each level up you earn 3 

 and the ability to purchase 2 more airports, but when updated to the latest version, 2 new airports are unlocked upon levelling up. On certain levels, you can also get an amount of coins or unlock new planes to buy. Starting from the supergopher and ending at the Mohawk, every level up unlocks a new plane. Starting from the Mohawk and onwards, every 2 level ups unlocks a new plane.
Xp Formula: 

XP = C + P + (500 * B) + (2 * (B - 1))
​C = Total number of coins awarded for delivered cargo
P = Total number of coins awarded for delivered passengers
B = Total number of bux awarded for delivered items
XP Glitch
For every loaded person or cargo 1xp is awarded. If you keep on loading and unloading any passenger or cargo, you will keep on earning xp. This helps in the lower levels as you don't need +200,000 taps to level up.
Planes
The Blimp, The Bobcat, The C-130 Hercules, The Concorde, The Hot Air Balloon, The Huey, The P-40 Warhawk, The Sea Knight and The Starship planes are not unlocked by leveling up, but by being in a certain position in the Global Event leaderboard.
Ad blocker interference detected!
Wikia is a free-to-use site that makes money from advertising. We have a modified experience for viewers using ad blockers

Wikia is not accessible if you've made further modifications. Remove the custom ad blocker rule(s) and the page will load as expected.