Mohawk Series
P - C - M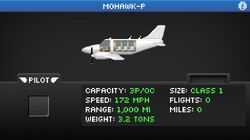 More info
Level Unlocked
8
Class
1
Capacity (P/C)
3
Capacity (M)
2 P, 1 C
Range (miles)
1,000
Speed (mph)
172
Weight (tons)
3.2
The Mohawk is a small, twin engine propeller plane, that is unlocked at level 8 that contains 3 cargo/passenger slots.


Before the introduction of the X10 Mapple to the IOS market, the Mohawk was the best balanced class 1 plane in terms of speed, capacity, and range. However, the introduction of the X10 has led to the Mohawk being phased out of many fleets, as it is essentially an X10 that trades one cargo slot for more speed.
Costs
Parts: 5

per part
To Build: 5

to build = 20

total
To Buy: 25

To Upgrade: 5

per upgrade (total of 9 upgrades available)
Upgrades
Type
Base
Level 1
Level 2
Level 3

Range
(miles)

1,000
1,050
1,100
1,150

Speed
(mph)

172
181
189
198

Weight
(tons)

3.2
3.04
2.88
2.72
Ad blocker interference detected!
Wikia is a free-to-use site that makes money from advertising. We have a modified experience for viewers using ad blockers

Wikia is not accessible if you've made further modifications. Remove the custom ad blocker rule(s) and the page will load as expected.