Pocket Planes is casual airline sim currently developed by NimbleBit . The game is available on iOS. (The Android version has since been removed since September 24, 2015 (but if a major update or sequel is announced Andriod will be re-added), the Mac version has been removed since May 30, 2015.)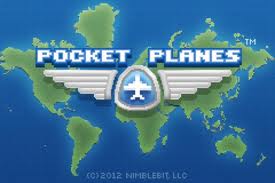 The game centres around the running of an airline company, with everything from purchasing over 250 cities, buying and customizing planes, to competing in events, both on your own or through a Flight Crew. You can upgrade and customize your fleet of aircraft, whether it be adding extra range or speed, creating different paint jobs, or even changing the uniform of your pilot. Pocket Planes allows you to play with friends through Game Center, allowing you to trade parts, share stats, or team up together in a Flight Crew to earn rewards.
Ad blocker interference detected!
Wikia is a free-to-use site that makes money from advertising. We have a modified experience for viewers using ad blockers

Wikia is not accessible if you've made further modifications. Remove the custom ad blocker rule(s) and the page will load as expected.