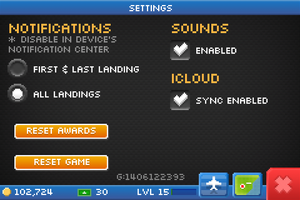 The Settings let you set when a push notification for
Pocket Planes
will go off; you can choose the first landing and the last landing or all landings that occur. You can also choose for the game to automaticaly upload from your other iDevice(s) with iCloud. Other options in the Settings page is to have all awards that you have earned for Pocket Planes through
Category:Game Center
taken away so that they can be earned again. Or to reset the game entirely. If you choose this option, a prompt will appear, and when 'RESET' is selected, the game starts over from the beginning.
Ad blocker interference detected!
Wikia is a free-to-use site that makes money from advertising. We have a modified experience for viewers using ad blockers

Wikia is not accessible if you've made further modifications. Remove the custom ad blocker rule(s) and the page will load as expected.