C-130 Hercules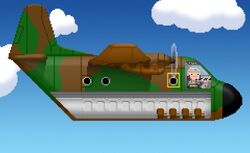 More info
Class
3
Capacity (M)
4 P, 6 C
Range (miles)
2,700
Speed (mph)
200
Weight (tons)
10.0
The C-130 Hercules can only be received through a world event prize. The C-130 Hercules has been in production for over 50 years. The current versions in production are the C-130J and C-130H. It is a transport backbone of many airforces world wide. It has evolved into version like the AC-130 gunship and EC-130 Radar Jammer. An AC-130 in Vietnam set a record of destroying 58 lorries in a single mission. On most accounts, the C-130 is the best rare plane in the game due to it's equality to the Sequoia Series.
Costs
To Upgrade: 25

per upgrade
To Fully Upgrade: 225

(9 upgrades)
Upgrades
Type
Base
Level 1
Level 2
Level 3

Range
(miles)

2,700
2,835
2,970
3,105

Speed
(mph)

200
210
220
230

Weight
(tons)

10.0
9.5
9.0
8.5
---
Ad blocker interference detected!
Wikia is a free-to-use site that makes money from advertising. We have a modified experience for viewers using ad blockers

Wikia is not accessible if you've made further modifications. Remove the custom ad blocker rule(s) and the page will load as expected.