The Kringle Kruiser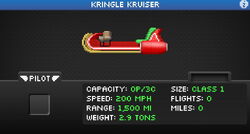 More info
Class
1
Capacity (M)
0 P, 3 C
Range (miles)
1,500
Speed (mph)
200
Weight (tons)
2.9

The Kringle Kruiser is a plane based on Santa's Sleigh, and is used as a Global Event prize around December.
Costs
Parts: 6

per part
To Buy: ?

To Upgrade: 6

per upgrade (total of 9 upgrades available)
To Fully Upgrade: 24

Ad blocker interference detected!
Wikia is a free-to-use site that makes money from advertising. We have a modified experience for viewers using ad blockers

Wikia is not accessible if you've made further modifications. Remove the custom ad blocker rule(s) and the page will load as expected.