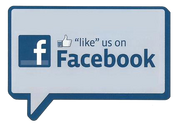 Alright guys, we got some big news! We have gotten our act together and created our Facebook page! With this, you can like us on Facebook and ask us questions about the game there instead of just on Twitter. Thank you guys for all of your support, and remember, Like Us!
Ad blocker interference detected!
Wikia is a free-to-use site that makes money from advertising. We have a modified experience for viewers using ad blockers

Wikia is not accessible if you've made further modifications. Remove the custom ad blocker rule(s) and the page will load as expected.