X10 Mapple Pro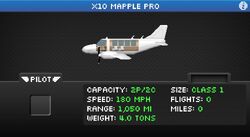 More info
Level Unlocked
8
Class
1
Capacity (M)
2 P, 2 C
Range (miles)
1,050
Speed (mph)
180
Weight (tons)
4.0
The X10 Mapple Pro, in update 1.2.0, is available on iOS as of 2/18/15. If you look closely at the nose, you will see a smiley face so if you paint the plane 'baby blue' - 'charcoal' - 'powder blue' you will make it look like The Finder in Mac OS X. As you can now purchase it on an iOS since the discontinuation of Pocket Planes on Mac, it is no longer classified as a rare aircraft. The X10 is essentially an extended Mohawk. If you compare them side by side, the only difference is the length and stats. The X10 is the best buyable class 1 plane in the market, with a capacity of 4. It also has a good speed and good range. This means it is also one of the most versatile aircraft in the game, with great stats and the ability to land at any airport due to it being a class 1 aircraft.
Costs
Parts: 6

per part
To Buy: 31

To Upgrade: 6

per upgrade (total of 9 upgrades available)
Trivia
The X10 is one of the few aircraft that do not have a passenger or cargo variant, only being mixed (like the C-130 Hercules)
External links
Ad blocker interference detected!
Wikia is a free-to-use site that makes money from advertising. We have a modified experience for viewers using ad blockers

Wikia is not accessible if you've made further modifications. Remove the custom ad blocker rule(s) and the page will load as expected.